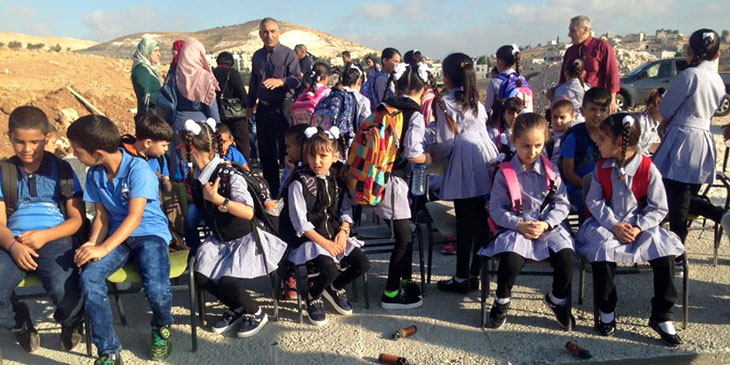 Jib al-Deb School is located in the village of Beit Ta'mir, east of Bethlehem, 5 km away (the horizontal distance between the town center and the center of Bethlehem). To the east is the town of Za'tara, from the north and west the village of Hindaza, and to the south town of Janata, a Palestinian village from the West Bank villages that fell under Israeli occupation in the 1967 war.
Tuesday, 22 August 2017: The Israeli occupation forces demolished the school "Jib al-Deb" and confiscated the classrooms, which are a (caravans) under the pretext of building in an area classified as a closed military zone. The villagers were attacked and prevented from approaching the school. And the Israeli occupation forces fired live bullets, rubber bullets and sound bombs to disperse the people as they were protesting against the demolishing the school.
Jib al-Deb school: where 64 students study, and consisting of classrooms (caravans), is funded by the German-Belgian Cooperation Council and the Italian Voluntary Civil Society (EU) under supporting the Palestinian.
Wednesday, 23 August 2017: At the beginning of the new school year, 64 students found themselves without school after the Israeli forces took over their classrooms (caravans) but the students challenged what the occupation forces did and and walked along rugged dirt roads close to their homes all the way long to their school. They sat on chairs they brought with them under the sun light and there they chanted "World, we want to live our childhood, play and study".
The students at school expressed their sadness of stealing their classrooms (caravans) by the Israeli occupation forces where the student Shahd Zawahreh (9 years) said "don't we have the right to read like the other children in the world? They have destroyed our school." And she added "The soldiers won't scare us and we will be keen to come to our school and study even under the sun light and the winter cold".
As for the student Amr Nayef in the third grade, he said "I'm so sad, instead of being happy for the beginning of the new school year, I find myself without the school I was dreaming of".
The European Union reiterated that all demolitions that were carried out by the Israeli authorities were "unacceptable" and called on Tel Aviv to return all the school's equipments of the "Jib al-Deb" school that were stolen by the Israeli occupation forces. The Belgian government demanded Tel Aviv with paying compensation to them because of the school demolition that was built with Belgian funds.
The Governor of Bethlehem Jibren Al Bakri confirmed that what happened were a barbaric act and a crime against children. Taking into consideration that this area suffers lots of Israeli violations and it lacks the basics facilities such as the infrastructure, electricity, water. However and despite all these circumstances, Palestinian residents insists to stay on their land.